November Dates to Remember
November 1               All Saints Day
November 2 & 9       Early Dismissal for SAS
November 20            Thanksgiving Soup Luncheon, All Are Welcome
November 21-23       SHECC CLOSED, Thanksgiving Break
November Community Events and Dates
November 2&9          SAS Early Dismissal
November 12             SAS Closed in observance of Veterans Day (SHECC OPEN)
November 19-23       SAS & SAES Closed for Thanksgiving break (SHECC OPEN 19-20)
Up-Coming Dates to Remember
December ?               Parent Appreciation Night
December 18            Christmas Program and Party
December 24 & 25   SHECC CLOSED- CHRISTMAS
Dec. 24- Jan. 4        NO VPK- (SHECC OPEN 26-28 & 2-4)
Dec. 24- Jan. 7        SAES & SAS Closed Christmas Vacation
Dec. 31 & Jan. 1      SHECC CLOSED- New Years
SQUARE 1 ART FUNDRAISER
Please take the time to go online and look at all of the wonderful items you are able to purchase with your child's artwork on it.  Some items, as well as personalization, are only available online.  Square 1 Art makes a wonderful Christmas gift for Grandparents as well as Aunts and Uncles.
INFANTS
Happy Thanksgiving! We hope everyone had a Spooktacular month.
We are sad to say farewell to Jack. He has moved up to the one-year-old room. He is making friends and doing great.
William is 4 months old now. He is a joy to have. He smiles all the time and loves to swing and watch everything going on all around him. He is rolling over. Way to go!
David always has a smile for everyone. He is rolling all around now and is able to get from one side of the room to the other. We can't wait until he gets back from vacation. We miss him.
Omar is the new baby on the block. He is a happy boy and loves to socialize with the other babies. He loves to sit and play with the toys and watch what the other babies are doing. He likes to swing when we go outside.
Breanna is really growing. She sits up and loves playing with the noisemakers. Her favorite spot outside is the sandbox. She loves to be around the other babies and always has a smile for everyone.
Canyon has learned to crawl through the tunnels on the playground. He also knows how to throw balls through them.J He is now pulling himself up at the little kitchen. Way to go! He loves playing with the ring set.
Sebastian is really moving along and learning new words. He loves to play outside crawling through the tunnels. He is trying new foods and we have not found anything he does not like.
Marco loves it when you read and sing to him. He has also learned to crawl through the tunnels and he knows how to get in and out of the sandbox.J It will not be long before he is walking all over, he is really giving it his best.
We would like to invite all of our families to our annual Thanksgiving Soup Luncheon. It will be held on Tuesday, November 20, 2012. All you need to do is bring yourself and a good appetite and we will do the rest.
We at Sacred Heart strive to provide the greatest learning experiences for your child. We like to work with you, the parents, as a team to meet the needs of the children. We appreciate everything you do to help us in our goal.
This month we will be painting with the colors brown, red and orange. We will make turkeys with our hands as well as making some owls and scarecrows. We will work on learning sign language, how to stack blocks and cups as well as lots of other fun activities.
Thank you to all of our wonderful parents who purchased books from our bookfair. The babies love the new books and the CD. Also, a thank you to all who sold cookie dough and brought in snacks and wipes. Your generosity is greatly appreciated.
Our next fundraiser came home this week. It is Square 1 Art. You can do a paper order and turn it into the office, or order online. Some items as well as personalization are only available online. These make great Christmas gifts.
Happy Thanksgiving and God Bless!
Ms. Nancy      Ms. Teresa      Ms. Phyllis      Ms. Pearl

ONES
We are so thankful November is here. Along with welcoming November we are also welcoming Jack to our class. He is having a great time and making new friends.
This month we will be celebrating two birthdays. Sara and Ryan will be turning 2! Happy Birthday!!!
This month we will be very busy with our artwork, singing, reading and much more. We will be working on please and thank you. We are also going to be talking about what we are thankful for as well as all our friends in our class.
Thank you to all the families that purchased books for our classroom during the bookfair. We are enjoying reading them. Also thank you to everyone who sold cookie dough and brought in donations of snacks, juice and wipes.
Please look online at all of the wonderful things Square 1 Art has available. These make wonderful Christmas gifts.
Please join us for our annual Thanksgiving Soup Luncheon. It will be held on Tuesday, November 20, 2012. We will be closed November 21-23, 2012, in observance of Thanksgiving.
Have a wonderful month and a Happy Thanksgiving!
Ms. Rita     Ms. Olivia     Ms. Sandy     Ms. Courtney
TWOS
November brings the excitement of cooler days that make it a joy to play outside.
We are very happy to welcome Maggie to our class. We hope that she will enjoy spending time with us.
Thank you to everyone who sold cookie dough for our fundraiser. Congratulations to Fabian's family for winning the $40.00 family outing drawing.
Elijah, through hard work and dedication has accomplished a major feat: he can now peddle a tricycle all the way around the track. GREAT JOB ELIJAH!!!
This month we will be learning about animals. We will be painting and naming different animals. We will also be learning to make animal sounds. Sponge painting animals will be a lot of fun. As we play with our barn and toy animals, we will discuss where animals live and what different animals eat. Our sensory books will help us to realize what some animals feel like.
The middle of November we will begin to change our topic from animals and our family pets to the importance of family. We will talk about our family and how families are different. When we thank God each day for our food, we will also thank Him for our family.
Sacred Heart staff would like to wish Ms. Linda a speedy recovery and the two year olds look forward to her return.
THANK YOU to our families for their generous donations of snacks and wipes.
Ms. Linda      Ms. Cindy      Ms. Katie

PRESCHOOL 1
Happy Thanksgiving! We have a lot to be thankful for. This month we are going to learn how God loves, protects and provides for us.
First, we are going to discuss our environment (Fall). We will look at the leaves and the trees. We will have a picnic outside and discuss the weather. The second week, we will discuss how God loves us and so do our families. Please send in a family photo that can be displayed in the class. The following week we are going to talk about how God and our family provides for us. The last week we are going to learn more about our friends and work on some self-help skills. We are ending the month by celebrating how God loves, protects and provides for us by giving us a loving family and friends.
Please join us on Tuesday, November 20, 2012 for our Annual Turkey Soup Luncheon. There will be a sign up sheet posted closer to this date. SHECC will be closed November 21-23, 2012, in observance of Thanksgiving.
Thank you to Shyanne's Mom for donating several books and pumpkins last month. Thank you to Clayton for our new book. Thank you to Adam and Liam for the extra pumpkins.
Have a wonderful month. Happy Thanksgiving.
Ms. Vicki     Ms. Elizabeth     Ms. Ashlee
PRESCHOOL 2
Last month our Fall theme went very well. The children enjoyed learning about nocturnal animals, exploring pumpkins and tasting pumpkin seeds. This month we will end our Fall unit with Apples, Trees and Thanksgiving. We will begin our Christmas unit beginning with Cookies. Some of the activities we will be working on are making applesauce, measuring the circumference of the trees on our playground, discussing what we are thankful for and observing different cookie mixes.
We are continuing to work on our manners. Our focus is on using kind words and giving people space. The last few weeks we have been doing a lot of sensory activities that the children really love. We will continue to come up with interesting things for them to get their hands in.
On Tuesday, November 20, 2012, we will be having our annual Thanksgiving luncheon. Please try to join us. Our class will start lunch at 11:00.
Thank you to everyone that brought in snacks and other items that were needed. Please take a moment to go online and look at Square 1 Art. There are so many great things you can have made with your child's artwork on it. This makes great Christmas gifts.
Happy Thanksgiving!
Ms. Liliana     Ms. Katie     Ms. Alex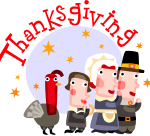 VPK 1
Welcome November! We are ready for the cooler weather. Our classroom windows have been open and the fresh air has been wonderful. Please remember with our cooler days, layers work best. Mornings might be cool, but it still gets warm in the afternoons. Also, please label all sweaters and jackets. I always seem to have a few extras at the end of the year.
We will continue with our unit on Harvest and Autumn. We will discuss the changes in the weather, along with how animals get ready for the coming winter.
Next, we will begin a unit on Thanksgiving. This will include a study on Breads and Grains. Some of the stories we will read are "The Little Red Hen" and "Bread, Bread, Bread". After we read these we will measure and mix flour and water to make dough and create dough letters. We will also taste different types of bread.
To celebrate Thanksgiving we will discuss what we are thankful for: our families, friends, homes and school. We will make turkey tracks from left to right, create a Thanksgiving placemat, read many stories and learn some Thanksgiving songs. We will have our annual Thanksgiving celebration on Tuesday, November 20. Watch for more information.
Our Seeds Gospel Themes will be Jesus tells us about God and Everyone's gift is important. These stories are from Mark 12:28-44. We will also begin discussing Advent, a time of waiting for the birth of Jesus. Each week we will light candles on our Advent wreath. The light will grow brighter as we approach the Nativity.
Special Thank You:
Everyone who helped with our Fundraisers.
Those who purchased books for our classroom from our Book Fair.
Those who helped with our Halloween celebration.
Everyone who helps with our weekly cooking experiences and those who remember their monthly snack donation.
Have a Blessed Thanksgiving!
Ms. Kathy     Ms. Katie     Ms. Ashlee     Ms. Becky
VPK 2
We welcome November with a thankful heart. What a wonderful time of year. The weather is pleasant, and the anticipation of the holidays fills us with joy! During the month, we will think about what thankful means. As we learn about this concept, we encourage families to talk at home about being thankful for all the blessing we receive big and small. Have the children think about how they can share some of their blessings with others. Sharing a favorite toy for the day or bringing a special snack to share with the class are some age appropriate ways that children can learn to share blessings with others.
During November, we will talk about the Autumn Harvest and Thanksgiving. We will learn about the different foods that are harvested this time of year both plant and animal. As we talk about the different harvest around the country we will talk about the different climates and how that affects what people wear and activities that they do in the autumn. As we end the month, Thanksgiving arrives and we will talk about the importance of being thankful and the family traditions for thanksgiving.
We will continue to practice our counting and counting words 1-10 and our letter recognition and sounds. We are also learning about the different uses of a book. We have talked about the author and illustrator and their function as well as the difference between and non-fiction or reference book and fiction or make believe story. The children were quite amazed when they were told that we didn't always have the internet and we had to look things up in a book.
We hope that your family is enjoying the "Seeds Weekly Gospels." The Gospel stories continue with "Jesus Helps Us to See", "Jesus Tells Us about God" and "Everyone's Gift is Important". The objective for these stories is for the children to express praise to God for the wonder and beauty or creation and so that children will recognize that God gives them the creation of life.
As the weather is beginning to change and the children are beginning to wear warmer clothes PLEASE remember to LABEL all of their clothing, sweaters, jackets, t-shirts used for layering.
I am looking for a parent or group of parents that would like to take on the role of "Class Parent Coordinator". The duties of this parent or group would be to organize parent volunteers for various fundraising activities such as the "Kumquat Festival" and the "Lenten Fish Fry's" along with class celebrations and other special activities when an extra set of hands are most needed. Fundraising is important for two reasons, one is that the funds generated go directly into the budget to help keep tuition cost down, also we want to raise money to pay for the new building that we are so blessed to have. We can always use help on special occasion days as well. If you are interested in this esteemed position, please see Ms. Cindie or Ms. Toni for information.
Making the holidays a little brighter for others is part of our theme of Thankfulness this month. We are sponsoring a Thanksgiving Food Drive: We would like to collect food donations for Catholic Charities this holiday season. Please be sure to bring in non-perishable items to our class by November 15, 2012.
****THANKSGIVING HOLIDAY*****
Public School will be closed the week of Thanksgiving. There is NO VPK during this week. We will have wrap around care for those registered students on Monday and Tuesday. SHECC will be closed on Wednesday, Thursday and Friday for the holiday. Please sign up if your wrap around student will attend on these two days. Holiday fees will be listed on the top of the signup sheet. If you have questions regarding holiday fees please contact Ms. Debbie Petters the bookkeeper.
Our Turkey Soup Luncheon will be on Tuesday, November 20, 2012. Please let us know if you are planning to attend and how many guests there will be.
Up Coming……As November comes to an end, we will begin our "Christmas Around the World" unit. This unit focuses on Christmas traditions from different cultures around the world. We get to learn how some of our traditions here in America have been influenced or brought from other countries. Each family will be asked to pick a different country and to create a Christmas traditions poster explaining what the traditions are. Advent will play an important part of December as we lead up to Christmas.
Thank you everyone that brought in treats for our Halloween Party, the children enjoyed the special day! I would also like to say thank you to everyone that has brought in snack for our class to share. Snack time is a wonderful time to work on self-help and social skills and children enjoy the variety of snacks. The Apples, Juicy Juice "Apple juice" and Cheese It's are now the favorites. Keep up the great donations!!
We hope you enjoy a wonderful holiday with family and friends, Happy Thanksgiving!
Ms. Cindie     Sr. Donna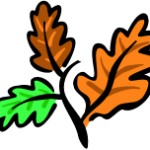 SCHOOL AGE
Welcome November and the cooler weather. I hope everyone had a Happy Halloween. Thank you to everyone who brought goodies for our party.
The themes for this month are TURKEYS, THANKSGIVING and SOUP. During our week about turkeys we will make turkey food for snack, make pinecone turkeys (If you have any pinecones to share, please bring them in.) and hand print turkeys. We will also read about farm-raised turkeys vs. wild turkeys. During the two weeks our theme is about Thanksgiving, we will talk about what we are thankful for; such as our families, friends, schools, sports etc… We will talk about those less fortunate and what we can do to share ourselves with them to make their lives better. We will talk about not just things people need, but that the most important thing we need is love. For the last week in November, we will talk about soup. We will talk about what our favorite soup is and make a chart to see which is the favorite. We will be making soup in the crock-pot on Thursday morning and eating it on Thursday afternoon. We will have a variety of beans and noodles in our exploration table for everyone to sort and explore. We will also have some in art for noodle and bean art projects.
Important Dates to Remember:
[ticklist]
November 2 & 9- SAS, 12:15 dismissal
November 12- SAS Closed, Veterans Day (SHECC OPEN)
November 19-23- SAS & SAES Closed, Thanksgiving
November 20- SHECC Thanksgiving Soup Luncheon
November 21-23 SHECC CLOSED, Thanksgiving Break
[/ticklist]
Thank you for your monthly snack donations. Have a wonderful month.
Ms. Susie     Ms. Debbie     Ms. Laura     Ms. Shelby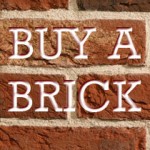 Don't forget to purchase your brick for the new sidewalk.  They are available for purchase in the front office.  We also have a list of other items you can sponsor for the new building. (Doors, Windows, Rooms, etc…)